Safety Dating: Top 10 Ways to Find Online Love Safely
Ready to dip your toe into the online dating world? Learn the ten safety dating tips you need to find love online without putting your wellbeing at risk.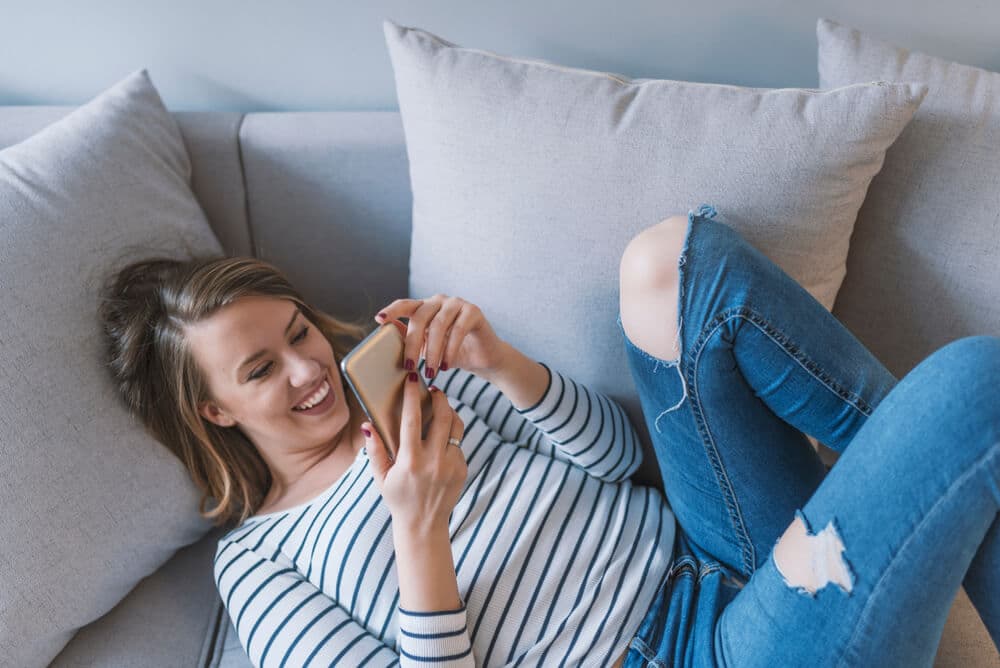 Online dating can feel like a minefield. There's plenty to juggle, including finding a spark with a fellow app user, setting up in-person dates, and ensuring you're well-protected.
Take the fear out of online dating by protecting yourself with these ten safety dating steps, so you can get on with the important things - like finding your dream match!
What do we mean when we say "safety" dating?
"Safety" dating simply means following set safety rules when dating online to protect yourself and your potential love interest. Without paying attention to your personal safety, you're more likely to find yourself in a harmful situation before and when going on dates.
Of course, most people using online dating apps don't have ulterior motives - they, like you, want to find a match. However, you need to be aware of profiles that may be trying to take advantage of you, whether through catfishing, scamming, or causing you physical harm.
By putting critical safety dating rules in place, you'll not only protect yourself but avoid wasting valuable time you could be spending on a compatible match.
How safe is online dating in 2023?
Back in 2019, a ProPublica survey reported that over a third of 1,200 female dating app users reported being sexually assaulted by someone they met online.
As a response to this, the big three dating apps - Tinder, Bumble, and Hinge - added photo verification features to confirm someone's physical identity.
But does this go far enough?
While catfishes are less common in 2023, photo verification doesn't help to screen the background of users, and it's all too easy for those with an abusive background to slip through the cracks.
That isn't to say that dating apps are rife with predators - far from it. In fact, the most common safety issues experienced by users when online dating are:
Fake accounts (67%)

Scammers asking for money (55%)

Sexual harassment (29%)

Verbal harassment (27%)

Stalker-like behavior after giving out their personal information (20%)
So, how safe is online dating in 2023?
Not very.
However, that doesn't mean you shouldn't use online dating apps.
In fact, many up-and-coming dating platforms are prioritising the safety of their users, including Paritae. With enhanced phone tracking, panic buttons, and intensive user screening, Paritae is working to change the landscape of online dating safety.
Even if you feel safe talking to a match, it's essential to adopt safety dating steps - from doing background checks to informing friends and family of your whereabouts.
Here are the top 10 ways to ensure you're practicing safe dating.
Top 10 ways to protect yourself when online dating
Whether you're a seasoned online dater or you're new to the game, adopting safety dating precautions when talking to your matches is vital. That way, you can enjoy the excitement of talking to someone new without worrying about your welfare.
Here are the safety dating steps you should include throughout every stage of your online dating journey.
The talking stage...
The talking stage is known for being exhilarating. You're learning everything about your match, from their favourite cheesy pick-up line to what they do for fun.
If your online chat is going well and you're considering an in-person meet-up, it's time to adopt the following safety dating steps.
Are they real?
Unfortunately, catfishing is still a prevalent issue in the online dating world, despite photo verification features. More than 40% of catfishing takes place on dating apps.
Protect yourself against catfishes by:
Checking their profile is verified. With a verification tick, you'll know that the dating app has confirmed their identity.

Adding them on social media. Check they have an online presence by scanning their social media profile. If they have lots of tags, you know that the account is genuine.

Google reverse search. Download their profile photos and use Google reverse search to see if the image returns to their name.

Stay on the app
As a general rule, it's safer to message within the dating app until you've met in person. That way, if the conversation turns sour or you experience harassment, you can report their behaviour to the dating platform or remove them as a match.
Wait to get personal
When a conversation flows, it's easy to divulge what you do and where you live. However, avoid giving away too much personal information early in the conversation. If your match has ulterior motives, they may be able to find out more about you than you're willing to tell them.
The in-person date...
So, you've found a promising match, and you're ready to take them on an in-person date. Congratulations!
When meeting an online match for the first time, you may feel nervous, or excited, or both.
Before you sit back and enjoy your date, follow these safety dating steps
When setting up a meeting, make sure to:
Meet in a public place
While it can be tempting to invite your match to your home, this can lead to serious problems if things don't go as planned. Rather than putting yourself in potential danger, meet your date in a public place first.
Try meeting at a:
Coffee shop

Bar

Restaurant

Public event
There's nothing wrong with taking your online match home with you on the first date, but ensure you know they are who they say they are before inviting them into your personal space.
Tell friends and family where you are
Ensuring that a friend or family member knows where you're going and who you're meeting is guaranteed to protect you if things go wrong.
If you don't want to message your friend during the date, it might be a good idea to share your location through apps like Facebook Messenger or Apple's 'Find My Friends.'
With Paritae, there's no need to inform your friends or family of your whereabouts. Instead, we take your friend's contact number and message them on your behalf if you're in trouble. Our enhanced location tracking means your friend, family member, or the local authorities can locate you and your date quickly if things turn sour.
Stick to an app with safety dating features
The dating app you use should take as many safety precautions as possible to protect you from harm and ensure a successful dating experience.
Most apps protect users before the date through photo verification, and after the date, through blocking and reporting features. However, an in-person safety dating feature is essential so that you can report any well-being concerns in real-time.
By choosing Paritae, you'll not only be protected before and after your date but during the experience with a panic button and enhanced tracking abilities.
Go with your gut
As human beings, we've evolved to sense danger. When on your date, listen to your gut instinct. If things don't seem right, make excuses and head for safety. Many bars and restaurants will have safety dating measures in place, so discreetly talk to a staff member if you're worried for your well-being.
After the date...
Your date is over. You probably have a sense of whether you want to see them again or whether it wasn't a good match. Either way, it's essential to communicate your feelings to avoid repeat messaging.
After your first date, here are the safety dating steps to take to protect yourself and your match.
If it goes well - schedule a second date through the app
The date went well, and you want to see them again. Great! It's time to schedule a second date. Whether you've added your potential match on social media or not, message them through the app to ensure you're still protected.
With Paritae, you'll have the option to schedule your dates using the innovative Date Invitation Feature, which syncs the date and time of your meet-up in both calendars. You'll never miss a date again!
If it didn't go so well - communicate your feelings and move on
It's time to leave ghosting in 2022.
Choosing to ghost your date not only leads to hurt feelings but can cause excess messages that you'd rather not deal with. Instead, communicate your feelings with your date. Leave hurtful words at the door, and instead, let them down gently.
If they don't get the message, it might be time to block their profile on the dating app.
If it went terribly - report any inappropriate behaviour to the dating app
If you were subjected to inappropriate behaviour, take action fast. Report their profile and specify what happened so the dating platform can remove them and protect other users from harm.
Ready to date safely?
At Paritae, we understand the importance of feeling safe while dating. That's why we've prioritised our safety features with enhanced location tracking, a panic button, and mandatory photo verification. Using our app, you can rest easy knowing you're protected from harm and concentrate on connecting with your online date.
Find out more about Paritae's future release date by signing up for our mailing list here . Alternatively, if you want to evolve the future dating industry by funding Paritae, find out more about our Partner's opportunity here.